Well, 2009 has been quite a year!
I would list all the stuff that has happened, but it's all over this board already.
I did want to let everybody know that the year is not over yet! With only a few days left, the most that can be squeezed out of the last few days will be spent wisely. I think you will agree.
Thanks for all the BFG book reviews that people have been sending into BFG website and anyone who has posted a review on amazon.com
Blown for Good has been the number one book in the "Scientology" category since its release. We have a lot of media lined up for the New Year that will keep it on top. We also have some additional booksellers that are picking up the book and we should see the BFG book hitting bookstores all over the world in 2010. Also, the book that the scilons had wished would go away is about to get a paperback edition and a second printing of the hardback. And at twice the price of Dianetics, no matter how much they push people to buy scientology books on Amazon, they still can't quite manage to grab that top spot back in their own category. With millions and millions of members, you think they could sell some books here and there, not the case. It appears amazon.com can't be hacked like the NY Times bestseller book list.
The biggest surprise I have had on the BFG book is the amazing amount of Scientologists that are buying the book and writing in to thank me for writing it. OT 7's, OT8's, new people that just got in and people have been in for decades. The book is answering questions that a lot of them have had but can't ask. The best part of this is the only way they found out about the book in the first place is they were told NOT to read it by fellow scientologists. So of course they got online and bought it right away! So thanks are due to OSA and a special mention to Tommy Davis for mentioning my name and book to people who otherwise might have missed it. P.S. Tommy – I hope you like the bullet proof loafers I had sent over.
What is coming up? In terms of the new work that will be done in 2010, well let's just say that from my end it is looking like my best year yet! My biggest hurdle will be cramming everything that I have to do into the one year. I really want to get around to some different places and see some people, but it might have to be late 2010 or early 2011 before I can make the trips. I did hit a few spots in the last month or so and you guys know who you are.
I did have some bad news and I wanted to let you guys know about it here before it gets out on the interweb and things get blown out of proportion. You know how these things happen. One person hears about it and posts it in some thread and the next thing I know, I am getting calls from half way across the U.S. asking me if it is true. So here it is: I got a letter from the State of California the other day. And it looks like something that was near and dear to me has been officially and categorically denied by the State. You see I had attempted something that had never been done before and it was too much for the system to take. It was not a matter of right or wrong. It was not based on some real or genuine facts. It was simply someone's opinion of what should or shouldn't occur and how my request would be handled. They just could not let it happen. Not in their time or on their watch. Was it a legal decision? I am still deciding on whether or not I should appeal it or just move on. The state of California would have even made money had they gone my way on this one. My California personalized license plate was denied! Turns out that BLWN4GD can be misinterpreted to mean something offensive and I got an official letter from the CA DMV stating this, so it must be true. I know, it is a rough thing to take in at once and I appreciate the concern and I think I will get over it.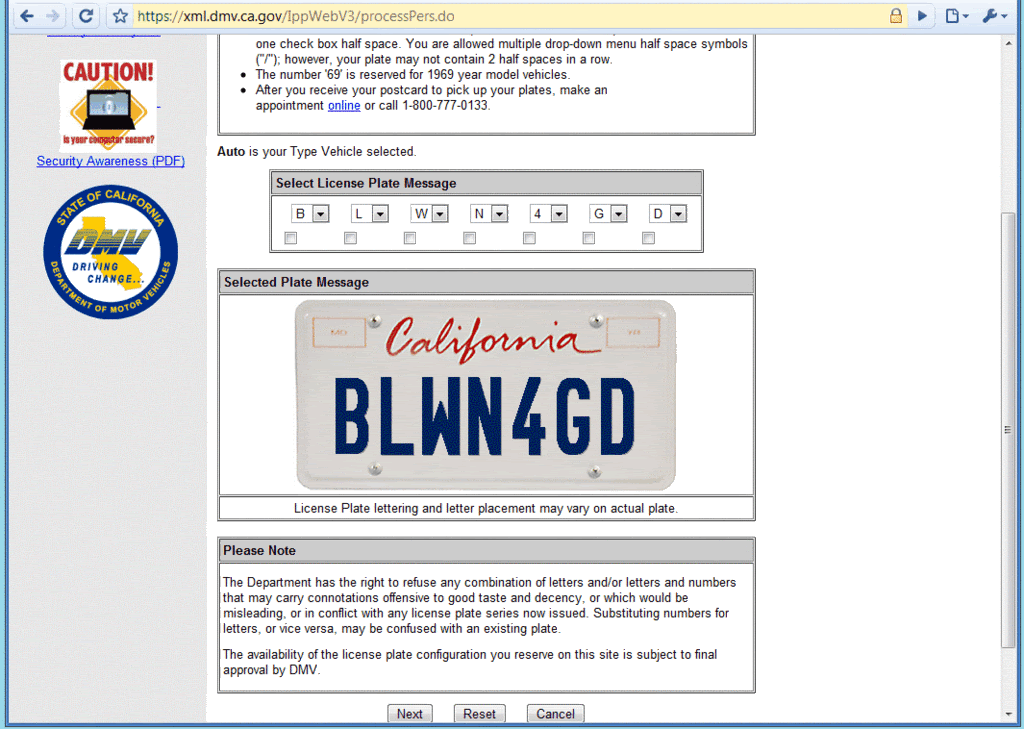 Seriously, that has been the worst news I have gotten recently.
As some of you may have heard, our legal cases are getting some back up and we have much more resources to deal with the upcoming actions that will be taking place. We just did some more depositions and they were not only shot on video in HD, but live streamed off site by the scilons to a special someone. The most that happened was that the defendants' lawyers got a further education on their clients activities. I would even go so far as to say they got schooled – hardcore. I always thought these depositions were going to be hell, now I look forward to them!
Meanwhile, defendant David Miscavige is sending his people out all over the place rounding up any and all past Sea Org Members and cancelling their SP declares, cancelling the illegal freeloader's debts and generally attempting to make peace with (silence) anyone and everyone who could be a threat. So while the defendants are out trying to silence witnesses and future potential plaintiffs, more and more are speaking out and contacting attorneys. Again, much thanks are due to Tommy Davis and company for getting the word out that I am suing them! Teflon socks will come as promised if you keep it up!
In terms of media and coverage for 2010, I think you will see that the media are getting less and less afraid of exposing what goes on behind the iron curtain of Scientology. So all those that are sending links to your favorite media outlet, it is working and the more stuff they get, the more stories that will run and the more truth that will get out to the general population.
Sorry for the tl:dr post, I will gladly GTFO and see you all next year!
Until next time…
BFG
"You can't change the world, but you can change the facts.
And, when you change the facts, you change points of view.
When you change points of view, you may change the vote.
And when you change the vote, you may change the world."